---
---
---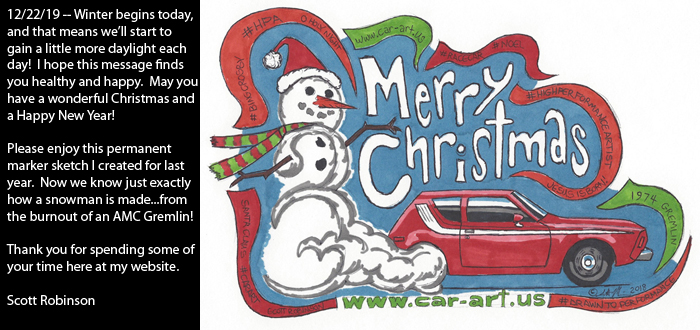 ---

---
---
---

---

---

---
This is my most-popular option. Your vehicle as a hand-drawn illustration. Size is 11" x 14", and they are framed and ready for display. I do offer larger sizes and international shipping, but that comes with an additional cost. These illustrations make great gifts, and I go to great lengths to help keep surprises should you commission an illustration as a gift. I will work with you to make it as personalized as possible. If you haven't done so already, check out the many examples that I have on here. As you'll see, many are personalized with elements that mean a lot to the owner of the vehicle. Still have questions? Please send me a message. More ordering info is available on my "Project Pricing" page.
---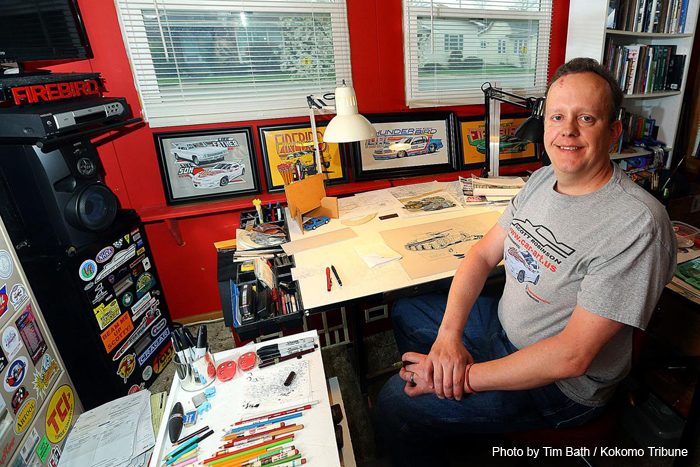 I was recently interviewed by Kim Dunlap, a reporter for the Kokomo Tribune. Tim Bath, a photographer for the paper, also took several photographs for the story. On April 30, 2019, I made the front page of the Kokomo Tribune. To even be considered for the subject matter of a newspaper article is pretty special to me, but to make the front page is a very humbling experience.
I delivered the Kokomo Tribune as a teenager. The paper had a section devoted to Tipton, which is where I reside, and I was interviewed for an article at 16 years-old. Here we are 28 years later, and I've made it into the paper again....and for the same reason!
I want to thank Kim Dunlap for the great article, and I also want to thank Tim Bath for the great photos. The photo you took of me sitting at my art table is my new favorite photo!
---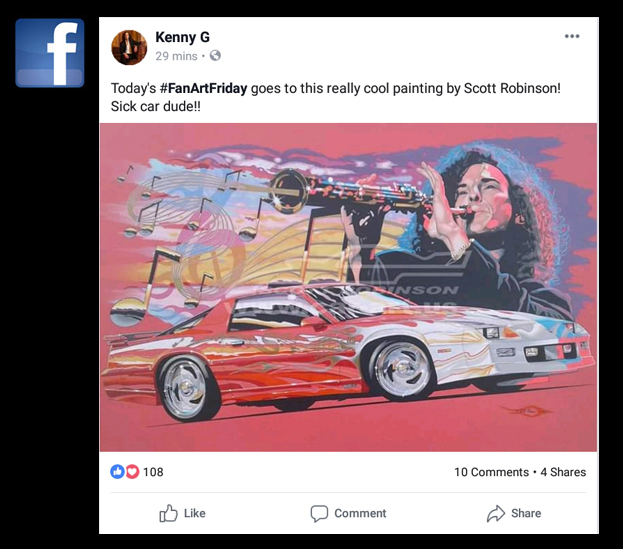 I was the featured artist for Kenny G's #FanArtFriday on April 26, 2019. My illustration, "IROC to Jazz" was featured on Kenny G's Instagram and Facebook pages.
I first submitted my art for his #FanArtFriday in July 2018. Knowing full-well that there are countless artists across the globe who have used Kenny G in their artwork, I knew it could be a while before I was selected. I did submit my illustration more than once, and tried to always tag it appropriately each time I shared it on my own Facebook and Instagram pages.
I created this illustration way back in 1998. I owned an '88 Camaro at the time, and the car that I illustrated just so happened to appear in a car magazine around the same time. The car incorporated sheet music into the paint scheme, and I saw an opportunity to illustrate two things I really liked (and still like to this day). My reference for Kenny G came from the CD sleeve of his Live album. The stage lighting reflecting off of him and his saxophone made for a great look. I was able to incorporate a similar color scheme for the sky.
I am once again very humbled to have my artwork enjoyed by others.
---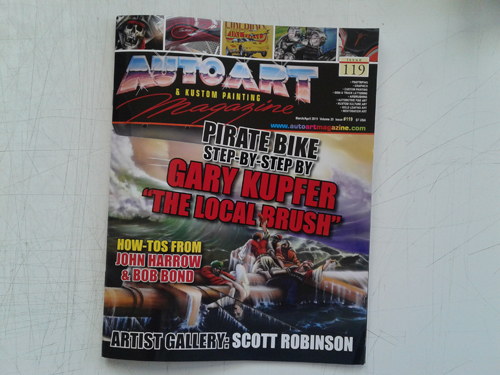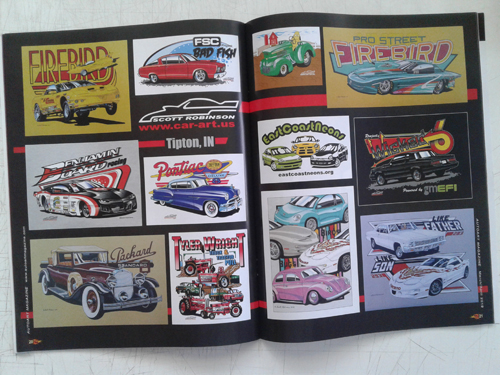 My work has been featured in the March/April 2019 issue of AutoArt & Kustom Painting Magazine. My two-page spread is on pages 20 & 21 of the magazine. It is so neat seeing my name boldly printed across the bottom of the cover along with a thumbnail of my Al Corda Firebird Illustration at the top.
I was able to create and submit my own page layout, which looks spot-on to what I designed in the actual magazine. Being that was my first time of doing a page layout for a magazine, I was pleasantly surprised to see it used without alteration. I expected something to need changing for my layout to work. I submitted it to the magazine in February of 2019, and was shocked to see it make it to publication so quickly. I know magazines tend to run several months out on setup.
I was published in National Dragster Magazine as a child, and Fastest Street Car Magazine in 2013, but having my work published in AutoArt & Kustom Painting Magazine is my greatest achievement to date. I am very humbled to share space with those that I have admired for all these years. Please check the magazine out at www.autoartmagazine.com
---
---
Home
---

All Illustrations contained on this site are © 1992-2020 Scott Robinson.
This site developed & maintained by